Coming up with an app idea is one thing. Getting it into development is another. And that's where app investors come in. 
Through app funding and other resources, app investors can maximize the sales potential of an app. But they can also help app owners create a needed edge to stand out and beat the competition in the busy and lucrative app market.
And the app market is competitive. Total global app and games downloads came to 142.6 billion in 2022. So success is only possible with the help of mobile app investors that want to drive innovation, scale, and a return on their investment. So, as a developer or app marketer, what information do you need to target mobile app funding and create unique, next-generation apps?
In this guide, we'll help you understand how to get funding for an app. But we'll also provide a comprehensive list of top app investors to approach. We'll also share a list of everything you need to know about app funding companies.
Who are app investors?
App investors are individuals or groups of individuals with the financial resources to support app development, scale, and innovation. App investors come in a variety of guises. Each one offers pros and cons to working with them. To offer some examples, Jeff Bezos took out a loan of circa $250,000 from his parents to start up Amazon. And Spotify founders Daniel Ek and Martin Lorentzon created a consortium of venture capitalists to get their streaming app underway.
When it comes to the cost of app development, it varies between $16,000 to $72,000. And hiring a developer can cost more than $100k. To raise this sort of money from app investors, it's important to work through a set of developmental and financial stages.
For instance, apps with an MVP will find it easier to attract larger-sized app investors by giving them a workable, functional MVP app to test. On the other hand, early-stage app ideas may need to go through several iterations and loaned investments before they're ready for prototyping.
Either way, rarely can an app idea take off without the help of app investors. And the failure rate for SME startups in the US is high –only 35% of startup apps last more than 10 years. And this makes it even more important for app developers to understand how to get funding for an app.
US SME start-up failure rate 2021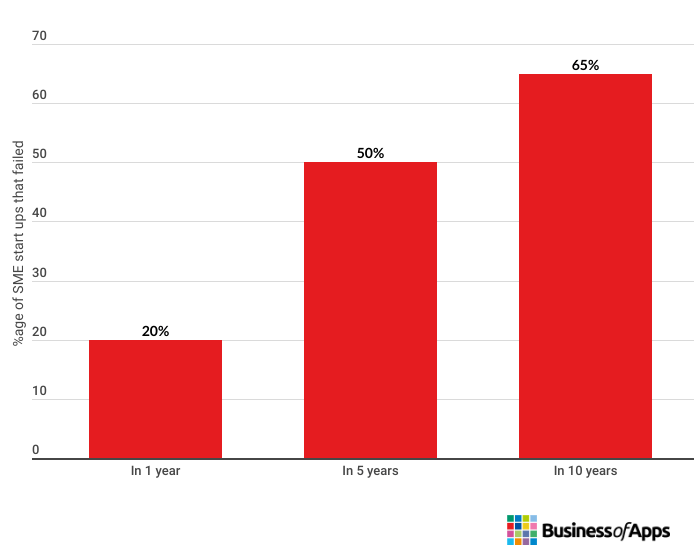 Source: Investopedia.com
Types of app investors
Getting funding for mobile apps isn't as tough as you might imagine. Mobile app investors come in different shapes and sizes and can offer help at different stages of app design and development. To illustrate the point, we'll get into some details on each type of app investor in this section.
Before we start, though, it's worth outlining the process of 'Bootstrapping'. Although it's not considered the same as an app investor, Bootstrapping is a form of app funding. Bootstrapping refers to individuals who fund their app ideas using their own money or savings.
But since we're only concerned with external types, let's get into our list.
Personal network
Family and friends can sometimes turn out to be reliable app investors. And since they know you, they may trust you better to do the job. As a result, they could be a good source for a loan.
Approaching individuals within your network may also help with launching ideas or making a start on app development. It's worth bearing in mind that the size of any funding may be smaller or be more of a 'one-off' type of loan or gift.
Co-founders
An alternative to getting a loan from family and friends is to bring them on board as co-founders. They could have experience in marketing and development, or be connected in the vertical you're aiming at. It's also worth looking outside of your network to take on a co-founder who could fill in any gaps in your experience and your bootstrapped finances.
Crowdfunding
Crowdfunding is a tech-based means of fundraising. It works based on timed, creative campaigns that make it easy for anyone to donate towards the investment. To achieve success, this type of mobile app funding depends on a personal investment of time and resources.
The investment can be worth it and can provide the needed seed funding to develop an app idea into a prototype or MVP app.
Online lending platforms
Several FinTech platforms offer app developers flexible loans over a fixed period. In practice, this could be 6 months or 5 years. Some platforms include expert advice, flexibility with repayments, and fast loan decisions.
Many lending platforms operate on a P2P (Peer-to-Peer) lending basis. This can often lead to higher ROIs and a more diverse portfolio, spread over several investors. And, because you can access loans with lower interest rates than traditional lenders like banks and building societies, P2P platforms are becoming more popular.
Accelerators
App startup accelerators offer the chance to fast-track growth through various strategies. These can include:
Funding in return for equity shares

Hands-on, one-to-one business and management mentoring

Networking support to connect with other investors 

Collaborative online and physical shared development spaces

Training in pitching, previous successes, and the fundraising cycle
While they can offer a wide range of support, a startup accelerator may take an equity stake of up to 10%. They often do this when an app is quite far along in development. But such an exchange can be worth it since in return an app should expect rapid growth and expert support.
Angel investors and venture capitalists
Angel investors are often High-Net-Worth individuals with significant finance to invest. Angel investors use their private wealth to finance app start-ups in return for an agreed equity stake. They can be a great option for more established apps or start-ups with seed funding.
Venture capitalists or VCs can offer larger sums of money since they usually invest from a fund and not from personal or private wealth. As private equity investors, VCs are usually backed by corporate entities. They aim to support companies' long-term growth and, while they are often approached for mobile app investment, they make up a smaller proportion of funders.
Why do you need app investors?
App funding is a critical consideration for any type of app or app-related business. Through seed funding and investment, app ideas can get off the ground and turn into viable products that become ready to launch.
To explain more, here are some key reasons why you need mobile app investors.
Secured funding
Getting an app idea into development and then into a test-and-learn period takes money, time, and resources. App funding can help to stabilize this process and allow for sandpit testing and innovation without fearing the potential of lost revenue.
App tools and equipment
App investors often bring tools and equipment to support app development. Even as early as the ideation stage, angel investors and start-up accelerators may have the tools and experience to support development.
VCs, angel investors, and accelerators can also support no-code tools to help develop a mobile app prototype or MVP. They may also have access to platforms that support continuous testing, helping you iron out bugs, test code, and determine app functionality.
Maximize development skills and capacity
App developers operate at different levels of capacity and experience. Some may have more time to offer than experience whereas others may be experts but less able to find the resources to support app initiatives.
App investors can offer their expertise from previous mentoring or from supporting app start-ups.
Stand out in the app market
As of 2022, the App Store included 1.76 million apps and 460,000 games. Plus, there were 2.65 billion apps and games available to download on Google Play. To compete in this crowded app market, developers need to make sure their ideas are viable.
But they must also check their ideas aren't duplicating existing apps, whether they're successful in the marketplace or not. And this is where app investors can help. They will have the experience and current knowledge to help you understand whether your app idea has legs.
Apple App Store Quarterly Apps 2009 to 2022 (mm)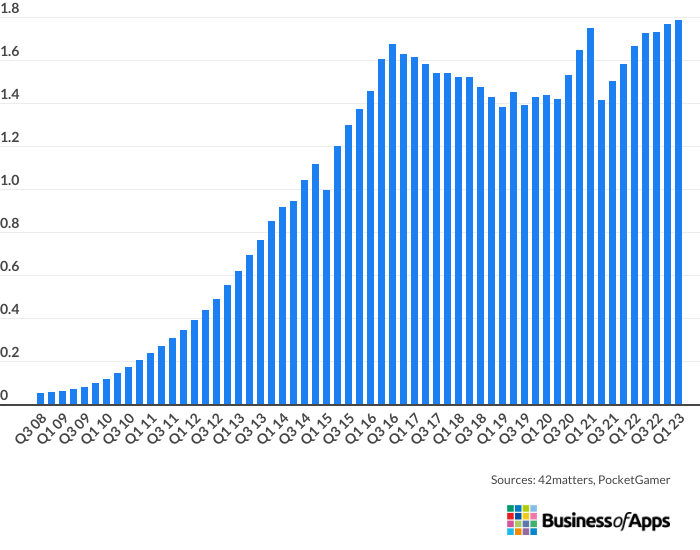 Source: Business of Apps – App Store Data
Increase app installs
Most apps exist to make a profit, even apps for good. App investors will expect a return on their app investments and this may be conditional on an agreed number of app installs. At the very least, app investment should result in a more successful app that can showcase an increased number of app installs.
Boost user engagement & retention
Again, several investors choose to sign up for an equity stake in an app business. Or they lay down certain conditions for unlocking further investment. Increasing user acquisition and user retention may well be one of those conditions that mobile app investors expect, acting as a demonstrable return on their investment.
Maximize ROI
App funders want to invest in apps that make them a return. They may believe in the app idea and have experience in a certain vertical or area of funding. But the bottom line is they want a return on their investment.
App funding can help startup founders realize their app vision and create a viable financial plan to get it to market.
Featured App Investors
Braavo - Grow your app business with confidence
How do you get app investors?
Armed with more knowledge about the benefits of working with app investors, how should you go about hooking them into your app development plans and ideas?
Identify your app idea and concept
When conceiving your app idea, it's important to align it with the key factors mobile app investors are looking for. For instance, having a unique app idea may attract investors faster than something that looks or feels like other available apps.
It's also a good idea to ensure your app idea fits the market you're aiming at. Sharing data that validates and backs up your claims on uniqueness and market position can also give credence to your ideas and help reassure your investors.
Find the right niche in your target market
Once you've defined and validated your app idea, you'll want to conduct extensive research on your target market to underpin your USPs. Where would your app sit in the overall ecosystem? Which verticals will it operate in? And who are your competitors? 
Make sure to include your research when forming a marketing and business plan for your app idea.
Define your target audiences & business objectives
Any app idea should target a specific audience segment. And, as part of your app marketing strategy, you'll need to create audience personas. With this information, it should be easier to define your specific target audience and, with it, the value of your app.
Understand your app costs and potential revenue strategy
You'll need to review each stage of your app development to estimate potential app costs. These stages include Discovery, Design, Development, and Testing and Deployment. Our previous research showed 50% of companies said it cost up to $5k to devise an initial concept while researching how their app would generate revenue.
US App Development Costs ($000's)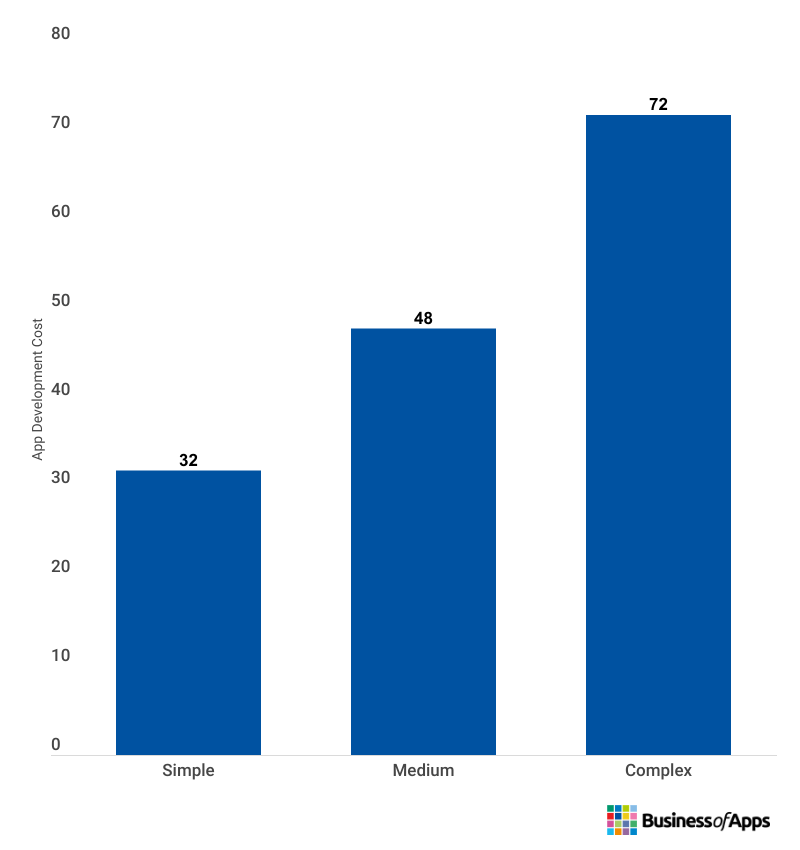 Source: Business of apps – App Development Costs
Create an MVP
Your MVP app should be the first operable version of your app and include basic features for users to test and refine. Creating an MVP will help investors get a sense of the look, feel, and usage of your app. And this is an important stage to get their buy-in and investment.
What are the different stages of funding an app?
App funding falls into a variety of stages. These stages are different from app development but may overlap. To define them, let's take a closer look at each stage of mobile app funding.
Pre-seed
This is where app developers seek initial app funding to support idea development and creation. Pre-seed tends to involve more informal funding set-ups since finding is likely to come from a person's network. It's unlikely more formal app investors, like angels, would be funding apps at this stage.
Seed stage
The seed stage is where an app idea gets road-tested and a business forms around it. At this stage, it's common to secure more significant funding for further review or market testing. This happens long before any prototype or MVP app development happens. But with a viable market product and research plan, app funders or funding platforms may well be appropriate to approach.
Series A
Series A funding is the first formal round of funding received from serious investors. App developers will need to have demonstrated success at this point. But the key to securing income is to have a well-planned-out business model that helps generate long-term profit.
To progress to the next funding round, app marketers will need to keep their focus on marketability and scalability.
Series B
Series B funding involves higher stakes, higher value investments. App marketers often have to reach certain milestones at this point, with demonstrated success in Series A. Then, in Series B, app investors want to see their investments take an app to the next level through business expansion and functional processes. Series B funding is not guaranteed and app developers will need to prove themselves to gain continued confidence from investors.
Series C, D, etc.
Apps that get through to Series C and beyond have proved their credibility and have a good chance of long-term success. Investors will be onboard at this point and want to drive scale and bigger investment. By injecting capital into app development, app investors in these stages want to grow an app as fast as they can.
Work with top app investors
With the information outlined in this article, you should have a good idea of how to get investors for an app. App investors want to find exciting ideas based on well-researched market positioning. To attract them, it's important to understand the various stages of app development and app funding. Doing so can help to engage the most appropriate app investors at the right time.
One way to ease the burden of navigating this area is to work with a choice of app funding companies. With a depth of expertise in app funding, they may well be able to support your stage of ideation or app development. So, whether you need an app accelerator or you need access to angel investors, our list of mobile app investors may get your app idea on track faster than you imagined.
List of app investors and app funding companies
Flexible credit facilities for mobile game and app developers.
We provide credit lines to mobile game and app developers up to 4x your monthly revenues. Our product is the most simple to use and our pricing is transparent and easy to understand. Unlock the value trapped in your accounts receivable (AR) and your existing users, and reinvest into UA to scale quickly — all without having to rely on dilutive equity funding.
Learn more about Pollen VC
Grow your app business with confidence
| Founded | Employees | Revenues | Social | Traffic |
| --- | --- | --- | --- | --- |
| 2015 | - | - | - | - |
Braavo offers a better model for mobile app and game companies to receive non-dilutive funding for growth—one that arms developers and founders with insights to scale sustainably and capital to turn their vision into reality.
Tagline: Grow your app business with confidence
Services: Mobile app funding, game funding, accelerator-funding, Braavo card, analytics
Learn more about Braavo